From as little as £20 per person per night (based on a party of 6) we think our little home-from-home boasts a comprehensive range of facilities.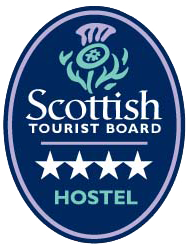 Built, we believe, in 1897 The Poor House has undergone several internal re-configurations in the intervening years but the original corrugated iron outer cladding remains. Thankfully much of the original interior remains to, including the oak panelling and the stone fire places. Of course we've upgraded the bathroom suite and kitchen units but there is still plenty to remind you you're living in a century old tin longhouse!
Although The Poor House is surrounded by croft grazing land we are happy to welcome up to 2 well behaved dogs.
Click an image to enlarge
The cottage sits in a slight depression, consequently receiving terrestrial signals is difficult or impossible. There is no mobile network coverage in the immediate vicinity of The Poor House, however, a short walk (300 - 400 metres) eastwards towards Dalcharn should put you in the zone. WiFi Calling is available on compatible devices.
We cannot receive terrestrial television signals at The Poor House so all TV entertainment currently relies on a comprehensive assortment of DVDs.
Furnished in favour of practicality the accommodation is fresh, spacious and welcoming, which is why we are confident your stay in our cosy highland hideout will be a relaxing and pleasant holiday experience.
We hope we have equipped The Poor House with everything you are likely to need for a comfortable and trouble free stay, however if you think we've missed something please let us know, we are always open to suggestions on how things might be improved.
Click an image to enlarge
Some of what we provide....
Chunky Pine Bunks. These are sturdy pieces of furniture so you can sleep safe.
Sprung Mattresses. You won't find a thin strip of foam rubber on your bed, but a deep sprung mattress for a good nights sleep.
All bedding, including a Mothercare Travel cot if required.
Free Wi-Fi
Wood for the fire (1 bag per day).
Electric Shower. The 9.8kW electric shower ensures there's always plenty of hot water for everyone.
Flat-screen TV with a comprehensive assortment of DVD entertainment.
Books & Games. A varied and interesting collection of reference books and fun things to do.
Well Equipped Kitchen. Crockery, cutlery, combination microwave, mugs/glasses etc...
Washing Machine. Free, front-loading automatic washing machine.
Oh, and the all important bottle opener and corkscrew!